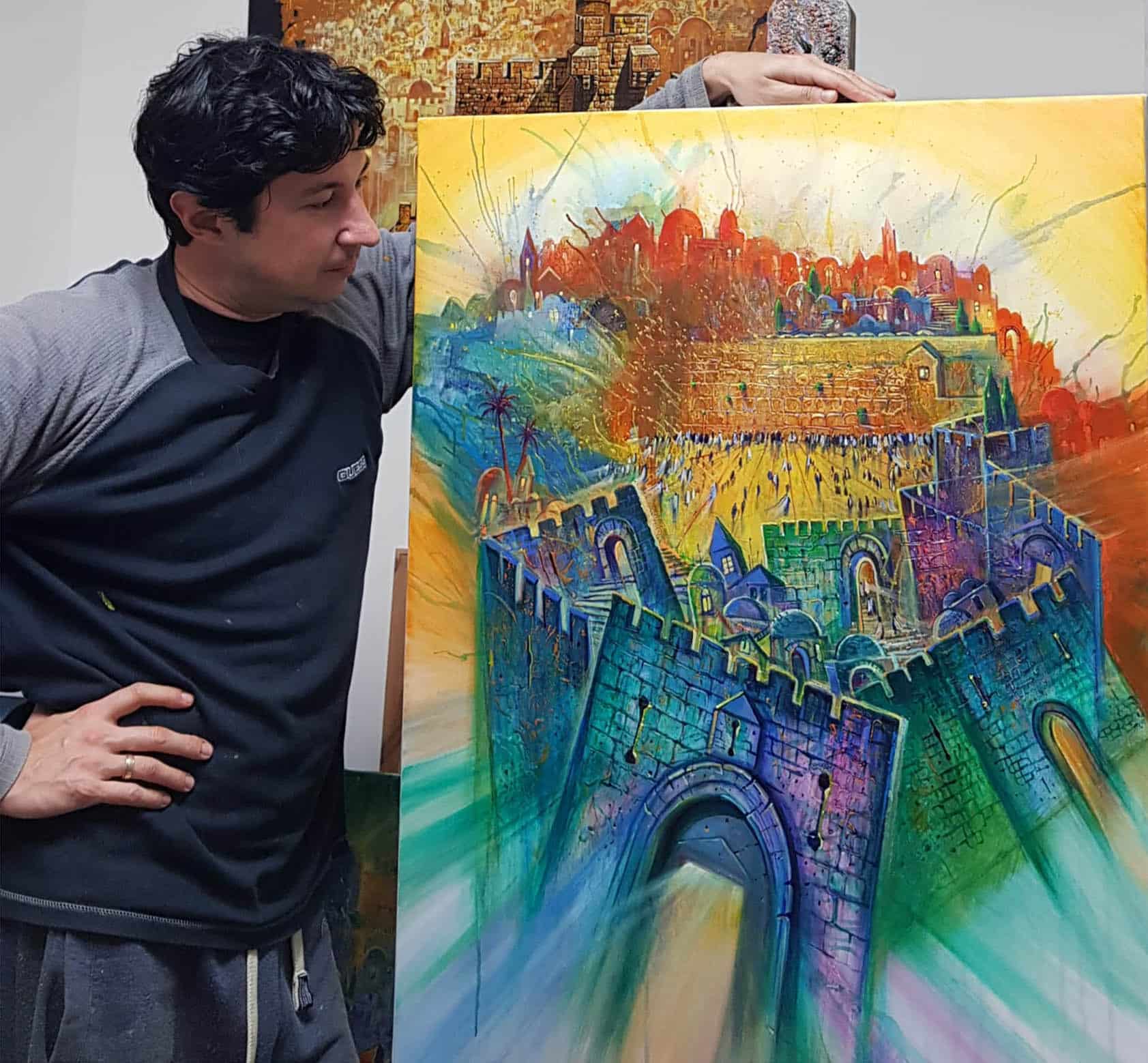 Today I will tell you how the painting "Indivisible Jerusalem" was created.
This contemporary Jerusalem painting is painted in a modern style with bright colors and random brushstrokes. Until today, I have painted most of my paintings in the classic realistic style. The series of abstract Judaica paintings and this new work is painted in a completely different way.
I start with the fact that I take oil based colored pencils and I begin to draw all kinds of lines on the canvas very freely, as if I were improvising on the canvas like a spontaneous piano jazz playing.
And suddenly, in front of my eyes, the modern Jerusalem painting appears.
In the picture, many house, synagogues and many important buildings of Holy Jerusalem suddenly begin to appear. This abstract painting is different because in abstract style you can feel all of Jerusalem at once. You can walk on the picture thru the old Jaffa Gates, walk through the old city of Jerusalem on its old streets to the Wailing Wall, and all this is one painting, one Jerusalem abstract painting.
When I paint modern Jerusalem, I draw the old walls of Jerusalem from different angles, as if the Holy City was moving one way to another, and we feel the divine presence in this Holy place. It is interesting that working in the abstract Jerusalem paintings, you can see the city in a completely different way and create something totally unusual.
At the end we get a painting where you can see Jerusalem at once with its seven gates in the old city. You can see the most holy place, Wailing Wall – Kotel. You can see it's shrines in one picture. Due to the quick work on the painting, I leave a lot of stains of paint in order to show how quickly the painting is created in an abstract style and at the end I get a feeling of understatement and this is a great charm of an abstract painting.
It is very unusual to see Jerusalem where the gates are in turquoise light and then in pink from the Western Wall we can see purple colors. This painting "Indivisible Jerusalem" is very exciting. You want to walk on it, wander through the streets and feel the holiness of this most Holy City on earth.