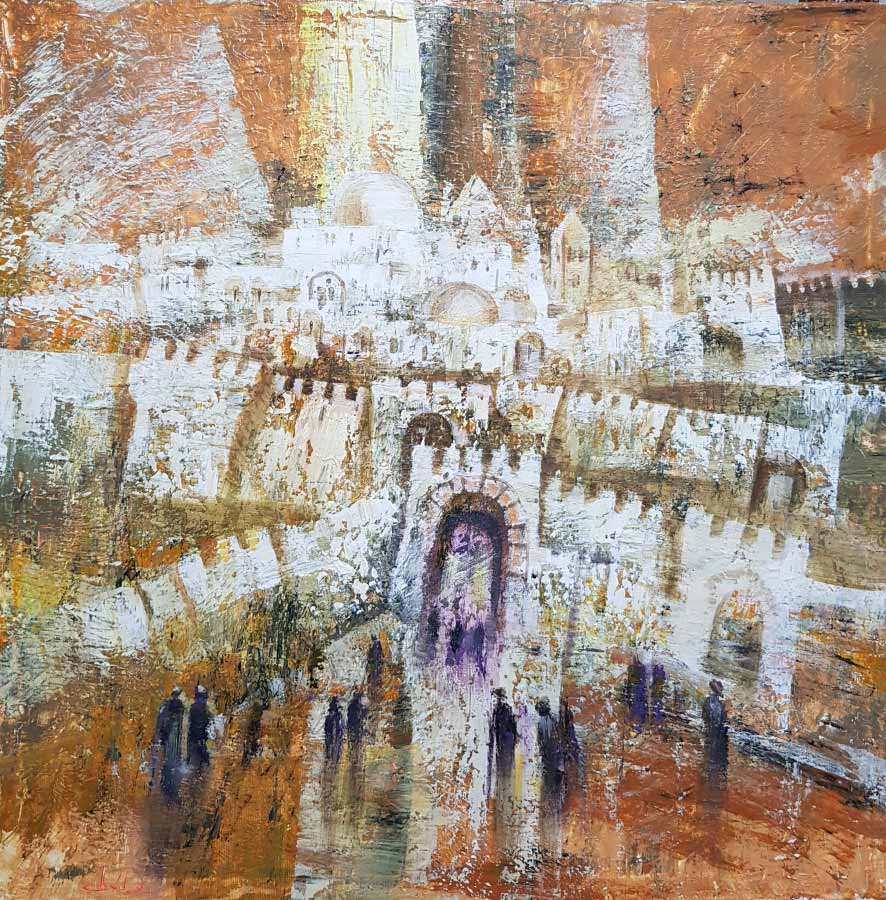 What does the world of contemporary Jewish art look like? From vibrant landscapes to abstract creations, modern Jewish paintings are an eclectic mix of cultural influences, symbolic imagery, and vibrant colors. This article takes a joyful look at modern Jewish paintings, exploring the range of styles and how they reflect the unique identity of Jewish culture today.
Modern Jewish art is as diverse as the many communities and subcultures that exist within it. From abstract to representational, modern Jewish paintings come in a remarkable variety of styles. From the whimsical to the sublime, each painting is filled with vibrant colors, shapes, and symbols that capture the spirit of a certain moment in time.
One of the most popular styles of modern Jewish paintings is the Pop Art style, which is characterized by bold colors, abstract shapes, and playful images. Some examples of this style are Susan Tepper's "The Wedding" and Judy Chicago's "The Dinner Party." These paintings capture the joy and humor of Jewish life, as well as the traditions and customs of the Jewish community.
Another popular style of modern Jewish painting is figurative art. These works are often characterized by the use of naturalistic figures, landscapes, and symbolic imagery. Artists such as Marc Chagall and Chaim Soutine are known for their vibrant and expressive work, which captures the essence of everyday Jewish life in a unique and captivating way.
A third style worth exploring is contemporary realism. These paintings feature images that are often rooted in realism, but with a modern flair. Artists such as David Hockney and R.B. Kitaj have used this style to explore the complexities and contradictions of Jewish identity, as well as to comment on current events.
A Rainbow of Colors, Shapes, and Symbols in Jewish Art
Modern Jewish paintings often feature a variety of motifs and symbols, which have deep symbolic meaning. These symbols are often derived from ancient Jewish scriptures and traditions, and are used to represent a variety of concepts and ideas. Some of the most popular symbols used in modern Jewish paintings are the Star of David, the menorah, and the Lion of Judah.
Many modern Jewish paintings also feature vibrant colors, which are often used to convey a sense of joy and celebration. The rich color palette used in these works often reflects the diversity of the Jewish people and their culture. Artists such as Chagall and Soutine often use bright, vivid colors to create a sense of energy and emotion in their work.
Finally, modern Jewish paintings often feature a variety of shapes and forms. These abstract shapes are often used to symbolize various concepts and ideas, such as faith, hope, and love. Some famous examples of this type of painting include Chagall's "White Crucifixion" and Soutine's "Autumn Landscape."
Modern Jewish paintings offer a unique and captivating look into the vibrant culture and traditions of the Jewish people. From vivid abstracts to naturalistic figures, these works capture the spirit of the contemporary Jewish experience. By exploring the range of styles and symbols used in modern Jewish paintings, we can gain a deeper understanding of the rich history and culture of this remarkable community.