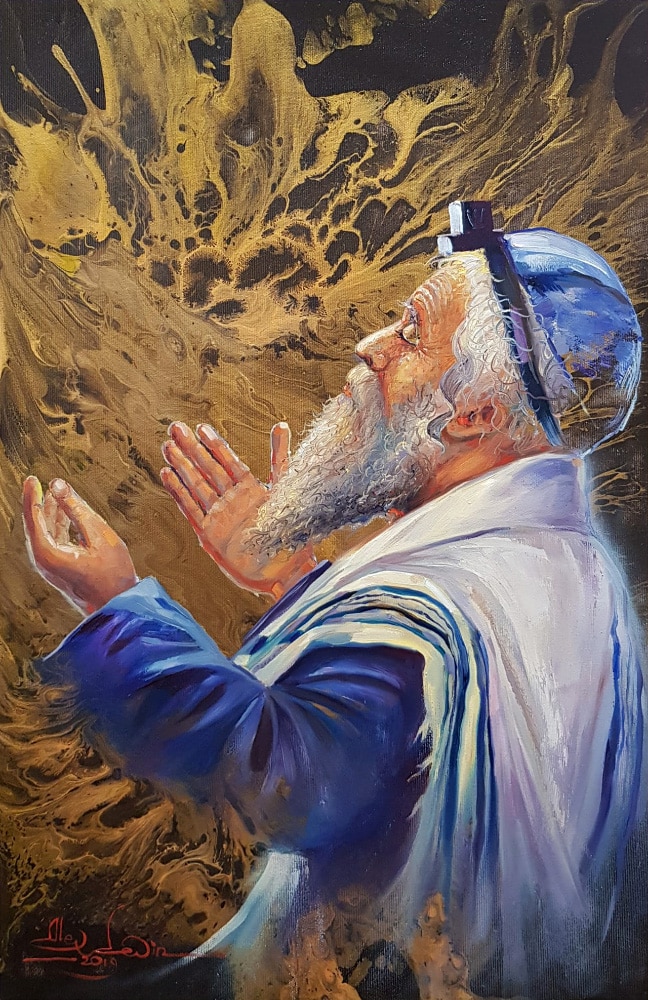 We are talking about an artist who received a phone call from the founder of Facebook – Mark Zuckerberg to apologize for deleting Alex Levin's page. His account was restored, while the story caused a sensation and brought attention to his art. We have asked the artist about fortuities, internet politics, lessons from Rene Magritte's student and other crucial factors. And, of course, we found out – for how much?…
Alex Levin's works are confessions of love for Israel – a country he had moved to from Kiev 15 years ago. Sun scorched Jerusalem, the city of celebrations – Tel Aviv  or grey-bearded old men hunched over books: no matter what it is that he paints, his masterpieces are imbued with this feeling. Despite the fact that a significant portion of his paintings are dedicated to Judaism, Alex is a secular and non-religious man.
It may sound like a paradox, but the artist owes the majority of his fame to the fact that Facebook had deleted his page after many Arabic users of the social network complained that the images of Jerusalem on Levin's paintings are "provocative".

This is largely due to the fact the artist allows himself to depict the city the way he sees it without thinking about political correctness. And he sees it as exclusively Jewish, without mosques or other Muslim establishments. However, the page was soon restored after hundreds of his fans sent letters of protest to Facebook, claiming that the artist's page did not contain any seditious material.
"Alex, was it vexing to see how an artist lives and paints his entire life, but only becomes famous worldwide after his page is deleted from a social network?"
"Not really, no. And anyway, it's a pretty old story. It happened during Passover about two years ago. Someone didn't like what I paint. I draw Jerusalem how I see it. I don't paint mosques and Muslim relics. At first I was upset. The page I dedicated so much time to, the page I use to share art and love for Israel suddenly disappeared. It was like it never existed. When Mark Zuckerberg heard about this incident, he called me to apologize and within a few minutes my page was up and running again. But all in all, this only benefits me. At the time I only had around 30 thousand followers, and today I have about 70…"
"What do social networks mean to you as an artist?"
"I think it's important to go with the times. Modern developments in technology gives an artist a lot of opportunities to make himself known. An artist who lives in his own little world and stays off the Internet and social networks will remain unknown. It is important to use new technology in order to promote your work. I don't have to run from gallery to gallery, asking them to display my work. Galleries find out my work through the Internet and they come to me to buy my paintings. Today, I am one 'click' away from sharing my paintings with the world. The Internet opens the door to a whole new world, and it's a pity that not all artist make use of it."
"Israel is a fairly young country. Is it true to say that today Israel has its own school of art, or does every artist belong to the school of art of their or their teacher's country?"
"Most artists who have come here from Europe in the 60's and 70's brought their own schools with them. But they each manifested it in a new way. It transformed in Israel, becoming more or less primitive and abstract, so to speak. Here artists begin to see the world through an Israeli prism, with the eyes of a child. And that, by the way, is a very interesting style. So, yes, it can be said that there is a somewhat established Israeli school of art. Some artists here have paintings that sell for 100-200 thousand dollars."
In general, there are many good artists in Israel that are worth learning from. One of my favorites is Reuven Rubin. He had moved from Romania to Palestine back in 1912. When I paint Jerusalem, I remember his works: there is nothing special about them, but they warm my heart.
"We can see that the themes of your painting are dedicated to Israel, but we would also like to know something else: has the country influenced your style and manner of painting?"
"I came here when I was 15, after studying at the art school in Kiev, and I can't say that I had my own style at the time. When I came to Israel, I knew that I wanted to paint but didn't know what and how. And I was lucky to meet a marvelous teacher. Baruch Elron is a world class painter. I would say he is the third great surrealist after Salvador Dali and Rene Magritte.
Baruch Elron spoke to Salvador Dali and personally knew Magritte. He studied in his studio in Belgium until Magritte said there is nothing more he can teach Elron."
… So this master grew up and created his work surrounded by world-class artists. Elron was born in Romania and moved to Israel where he started a family. There is so much symbolism, mysticism and kabbalah in how paintings (one of his works is depicted on the left). When I entered this world at the age of 15, I never realized just how great and famous this artist was. At first, Elron refused to take me on. He had mature students in his school, some of whom were 60. And I was 15! Besides, he didn't think I was good enough. I ended up learning from Elron for 10 years, and for 10 years I absorbed everything he had to give me as a teacher. He was a great influence: he taught me how to think and gave me a surge of energy. After all, surrealism is a complex style. It is important to not only draw but also think outside the box. But that doesn't mean that I am imitating only my teacher's style, no. He taught me the drawing techniques of 15th – 16th century.
"Along with Israel, a country that influenced me the most, these skills and divine light here make up my style. I love every stone and every flower in Israel because everything here is given to us from above. This ground was not given to us for no particular reason. That's where I take my energy from."
"When I look at your work, I associate them to Dali's paintings and the kabbalah…"
"I can't say that I am proficient with the kabbalah. I mean, people study it their entire lives. But some knowledge came to me from my teacher. At times I have no idea how I come up with ideas for my paintings. I somehow see these symbols, and I don't know where they come from. From the kabbalah, from somewhere above and through my wrist. An artist is, in essence, the middleman between god and the wrist."
"You often draw Tel Aviv. Yet many people often disregard it. Jerusalem is a holy city, Haifa is the Mecca for repatriates from the former USSR, but only a few artists like Tel Aviv…"
"To be honest, it took me some time to like Tel Aviv myself. It's not exactly love from first sight. I always loved Jerusalem and Venice, and I would have never thought I would fall in love and begin to draw Tel Aviv. It all began when I was asked to draw a series of paintings for Tel Aviv's one hundredth anniversary that was celebrated in 2009. I wondered, what could I possibly draw? I walked around the city and tried to look at the familiar in places in new light. And then I realized how beautiful it actually is and that I can make a very interesting series of paintings. At first I planned a course of five or six paintings…"
… Now I constantly draw this city.
"Tel Aviv is a city you must fall in love with. It has incredibly beautiful places, and there's a good reason why it was put on the list of UNESCO as a 'white city'! This is the only place that preserved building constructed in the Bauhaus style. And Rothschild Boulevard for me is like Giverny for Monet. One can paint this street their entire life – it looks different every time you look at it! Or the Neve Tzedek neighborhood, which is the first neighborhood built in Tel Aviv… There are so many beautiful building here that are currently being restored."
«Rothschild Boulevard for me is like Giverny for Monet!» — Alex Levin
For me this is a city of love and youth. I walk down its streets, look at the passers-by and sometimes I wonder whether these are the people who "came off" my paintings or people will "go on" them…
Alex Levin. From the "Symphony of Rain". "Vivaldi, 12 sonatas for the violin" (here is an audio link).
"Alex, you have a large series of work – 'Venetian Carnival Masks'. A city of celebrations, a carnival city. Is this was unites Venice and Tel Aviv for you?"
"I've never really thought about it. Although, perhaps you're right. Tel Aviv is a city that never sleeps. It's filled with life day and night. It's full of energy. Like a carnival. You can't not to love Tel Aviv. I try to go to Venice for carnival every year. I walk, look and take photos. And then a while later – not immediately – paintings are born.
"You paint Israel and Judaism-themed paintings in warm colors. Sometimes it feels like the paintings are radiating heat. Is this an effect you planned for?"
"Yes, I love these colors. Brown, yellow, orange and perhaps red. These are the colors I finish my paintings with. My teacher taught me the techniques of artists from the Rembrandt epoch.
When my paintings dry, I give it life and energy by adding a few layers of three or four of these colors. This is how I make my paintings radiate Rembrandt's deep light."
"'Bank Mizrahi' acquired some of your paintings to support the initiative of the World Forum of Russian-speaking Jewry to promote the art of repatriate artists. Is the art of repatriates' in need of special support?"
"I don't consider myself a repatriate any more. I came to Israel in 1990 at the age of 15. I am a 'sabra' now. Modern repatriate artists don't need support like the Aliyah from former USSR. But if someone wants to help and promote them, it is always praiseworthy and pleasant."
"Tell us, can an artist in Israel make a living just by painting?"
"When I say that I am an artist, people often don't understand what it is that I do.
"My seven year old daughter says: 'Dad, you don't work. You sit at home and draw all day'."
"People don't understand that it is a job, and not an easy one. But if an artist sets himself a target and sticks to it, he can be very successful. Perhaps I am one of the few artists in Israel who can make a living solely by painting. But that's how it is all around the world! An artist must believe in what he is doing. He should paint from the heart, not at the potential customer's demand. For me it's important to paint what I feel and what I see. An artist must be able to speak out, and then the spectator will feel the idea behind the painting."
"Do you take orders for portraits, for example? Or do you live solely off the sales of your paintings?"
"I rarely take orders and I don't really do portraits. It's not my main source of income. I mainly earn money from selling my paintings at exhibitions and Facebook."
"What is the average price of your paintings?"
"Somewhere between 5 and 15-20 thousand dollars. I would say my paintings are in the middle of the price range. I also sell prints of my paintings on canvas. It's less expensive."
"How many paintings do you sell per year?"
"I don't know. I have a manager who deals with sales, including collectors and dealers. I receive hundreds of letters from all over the world."
"Clearly you sell a lot of paintings in order for your manager to benefit from working with you. So an artist in Israel can make a living using only his talent?"
"Well, that depends on what kind of living. I don't need much. My demands are average."
"But you do earn enough to go to carnival in Venice…"
"Yes, that's true. And I am incredibly happy that I get pleasure from my work-hobby."
"You recently started working on a new series of paintings – 'Miracle of Israel'. Can you tell us a little more about it?"
"This series is still in development, as it requires lengthy preparations. I've been working on it for two years, collecting old newspapers that mention the history of Israel's building and existence. The concept of my new series is based on the newspapers from 1948 to 1973. They are very hard to find and are could be very expensive. The prices can be as high as a thousand dollars. Some I buy at the antique markets, some I receive in the mail from people. There are even samples that I'm afraid to touch or else they'll crumble, which is why I use tweezers. One of my rooms is filled with those newspapers."
"'The Miracle of Israel or Roots' is painted on cut-outs from these vintage newspapers. I am creating a collage of these cut-outs that have to do with Israel. Using a special technique, I glue them to the canvas and paint a picture that has to do with the messages in the collage. I began the series with the portrait of David Ben-Gurion and the announcement by the New York Times of May 15th 1948 that the state of Israel has been proclaimed. It is important for me to show everyone who stood behind the country's beginnings."
'…there will also be more paintings related to Herzl, Golda Meir, Moshe Dayan. And on top there will be my vision of these people and the facts that have to do with them. I'm also planning to work on paintings dedicated to Mossad's kidnapping of a Nazi military criminal – Adolf Eichmann, and his trial in 1961, the massacre of the Israeli national team at the 1972 Olympics in Munich. Majority of the paintings will be done in black and white, but sometimes there will be a little color."
"I am also currently working on a series of 12 surrealist paintings to commemorate the Holocaust."
"Road to Hell". Dedicated to the 6 million Jews killed during the Holocaust. Interviewer:
Inna Katz. Illustrations borrowed from the artist's official website and his Facebook page.